Gridbox V4 has arrived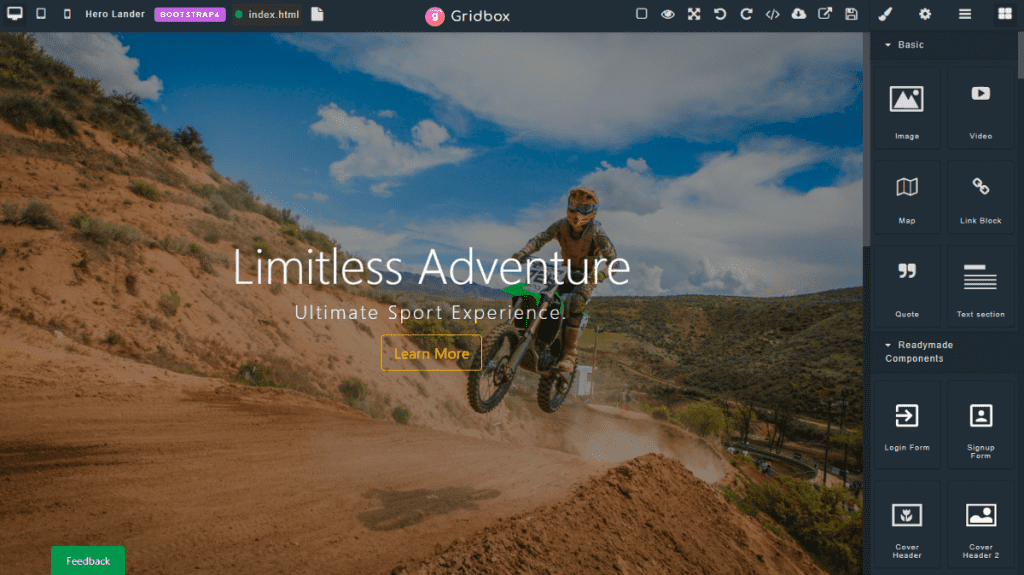 Gridbox 4.0 has arrived — but it's just the beginning. Here's a look at what we're releasing today, with a look ahead at what's coming next.
Gridbox 4.0 is the culmination of months of research, testing, design revisions, and engineering ingenuity. It's built from scratch to support modern web development with higher velocity. Now, the new Gridbox offers more ways to build faster and real web prototypes using Bootstrap and plain HTML5.
We owe a debt of gratitude to our 4000+ users whose frank remarks, valuable suggestions and continued support are quite helpful to us to redesign our tool from the ground up to achieve quality and better performance.
All New High Performance Visual Designer and Editor.
We've completely redesigned the visual designer and editor from the ground up. With new visual designer and editor you can effortlessly style HTML components without touching the CSS. As you build your website and lay out your content, the Designer creates clean, semantic code that's ready to hand off to developers.
Content Editing Just Got Easier.
With Gridbox v4, you can create/edit content right on the canvas and it is as easy as filling out a form.
Improved Element Inspector.
You can nest elements as much as you can but when the structure begins to grow the Element Inspector comes very handy. It allows you to manage and rearrange your elements extremely faster, focusing always on the architecture of your structure.
Improved Performance and Stability.
We've significantly improved the performance and stability of the Gridbox. Now you can experience the ultra fast loading of projects and smooth switching between editor and projects.
Readymade Components.
Quickly drag in complex elements like sliders, covers, background videos, pricing tables, pre-built forms and more, to build your website layouts faster.
Plain HTML5.
Now, it's possible to build an app without using Bootstrap framework. With Gridbox v4, you can build prototypes with plain HTML5 and custom css.
Ready to Explore New Gridbox V4
Kindly check on this link (https://www.gridbox.io) and spread the word :)